New Health Evolution Report: Driving Value in Health Care Corporate Venture Capital
---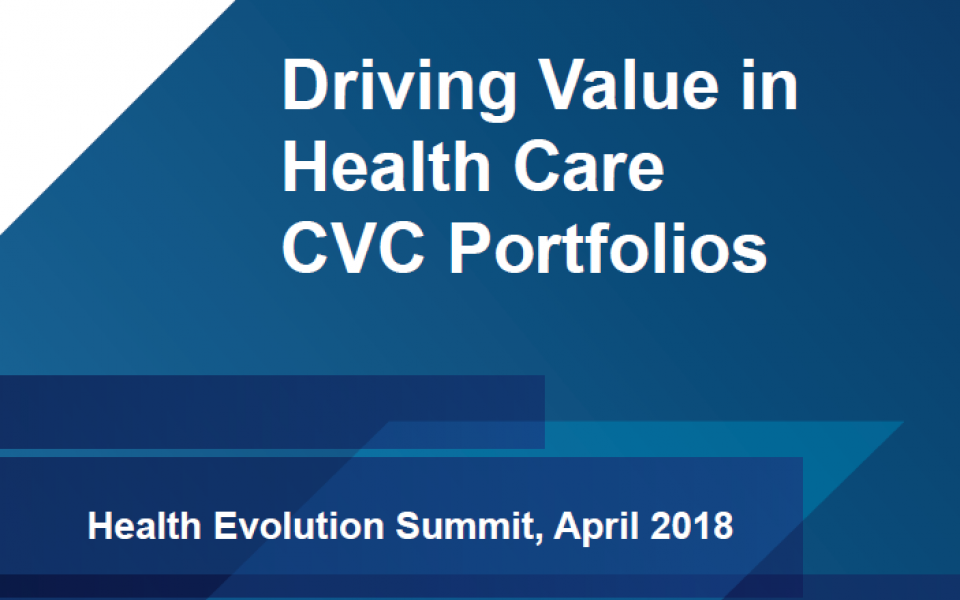 The digital health investment sector saw record-breaking performance in 2017, according to a new survey of the corporate health care investing landscape, including a 7 percent increase in deals, a 22 percent increase in average deal size, and a 32 percent increase in overall funding.*
These findings and more are outlined in "Driving Value in Health Care CVC Portfolios," a new report from the Health Evolution Corporate Venture Group (Health Evolution CVG) released in collaboration with CVG Partners Echo Health Ventures, GE Ventures and Humana.
The report outlines findings from the group's annual survey, perspectives from portfolio companies, a look at what's next for the industry, and more.
Continued Momentum with Corporate Venture Capital
The report states that corporate venture capital (CVC) has become not just a norm in health care, but a dominant force in the financing and strategic landscape. Leading startups consider savvy health care CVCs to be more valuable than institutional venture capital and private equity peers, particularly when there is clear partnership with corporate parents.
Corporates are increasingly crucial players in developing the digital health market, not just as investors, but also as customers and acquirers. In 2017, CVCs participated in 17 percent of all deals recorded by the Rock Health 2017 End of Year Report.
"CVCs have an opportunity—arguably an obligation—to raise their game to ensure they can be long-term partners to entrepreneurs and the innovation economy generally," said Rob Coppedge, Echo Health Ventures CEO.
Perspectives from Portfolio Companies
The report also shared findings from portfolio companies on what they find important in CVC partnerships:
Ability to deliver the power of the corporate parent's ecosystem
Customer base and operational expertise
Transparency regarding intentions and goals for investment
Understanding of corporate parent vision and plan for startup offering
CEOs of Echo portfolio companies Livongo and Phreesia, along with the CEO of Evidation, contributed their perspectives. All three are leaders of venture-funded companies with successful track record in engaging with corporate strategic investors.
To learn more, read the full report "Driving Value in Health Care CVC Portfolios." You can also explore highlights from the 2017 Corporate Venture Group report.
About Health Evolution Corporate Venture Group (CVG)
Health Evolution CVG is comprised of corporate venture program leaders who bring an increasingly influential external perspective to the development of their corporate parents' strategies for growth and innovation.
*Source: Rock Health 2017 End of Year Report