WATCH: Rob Coppedge on the Promise of Free-Flowing Health Data & Rural Care Delivery at the GeekWire Summit
---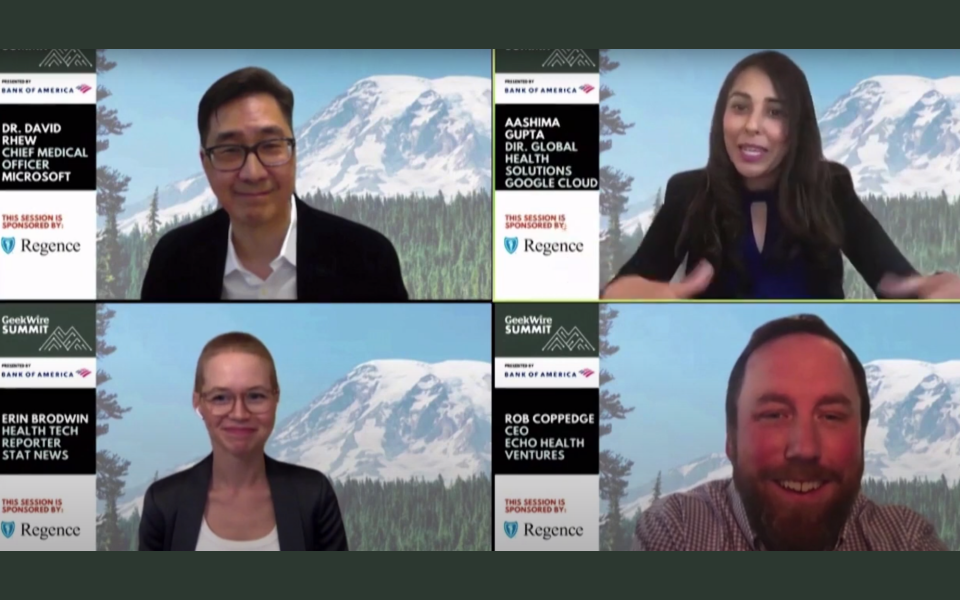 At GeekWire's annual Summit, health care experts explored wrinkles within health care delivery and data management with some of the brightest minds driving the health care sector. Rob Coppedge, Echo Health Ventures CEO, was joined by Google Cloud Director of Global Health Solutions Aashima Gupta, Microsoft Chief Medical Officer David Rhew, and STAT News' health tech reporter Erin Brodwin to discuss the digital evolution of health care and how COVID-19 has accelerated the adoption of future-forward solutions.
Watch the full panel below, and notes on the challenges from this year's Summit
The rural health delivery puzzle
Solving for the intricate factors that shape rural health care is now among the biggest challenges facing the sector. However, this opens the door for technology and other services to more holistically support folks limited by their location.
Rob's optimism for innovative solutions solving for rural health delivery ties back to the successes seen by Echo's portfolio companies Eleanor Health, DispatchHealth, and Cityblock Health. So far, these companies have shown promising results in terms of addressing the needs of inner-city Medicaid populations and those with substance use disorders. Given the success of these innovative care delivery models in urban areas, it's possible that there are lessons learned that could apply to improving non-urban access to care.
What 2020's shift to virtual means for interoperability
Rob shared his view that 2020's progress was not actually technological, but cultural. Over the last eight months, individuals have become increasingly open to new formats and care settings. He says that shift has happened independently of technologic evolution, since the technology behind this shift predates the pandemic. In order to sustain that growth, he suggests that these interoperability solutions are both consumer- and health system-centric, and should be considered as interconnected as "two ends of the same telescope."
Interoperability comes into play when both consumers and health systems have equal control of the data that informs actionable insights and care decisions. Interoperability barriers are not only about immobile data and technology disconnects, but also when consumers lack the right tools to take control of their own care. Individuals need providers to understand their individual care journeys, and Rob suggests this will not happen until health systems learn to break through these barriers and begin adopting these types of models.