Get to Know Dusty Lieb, One of GCV's 2020 Emerging Leaders
---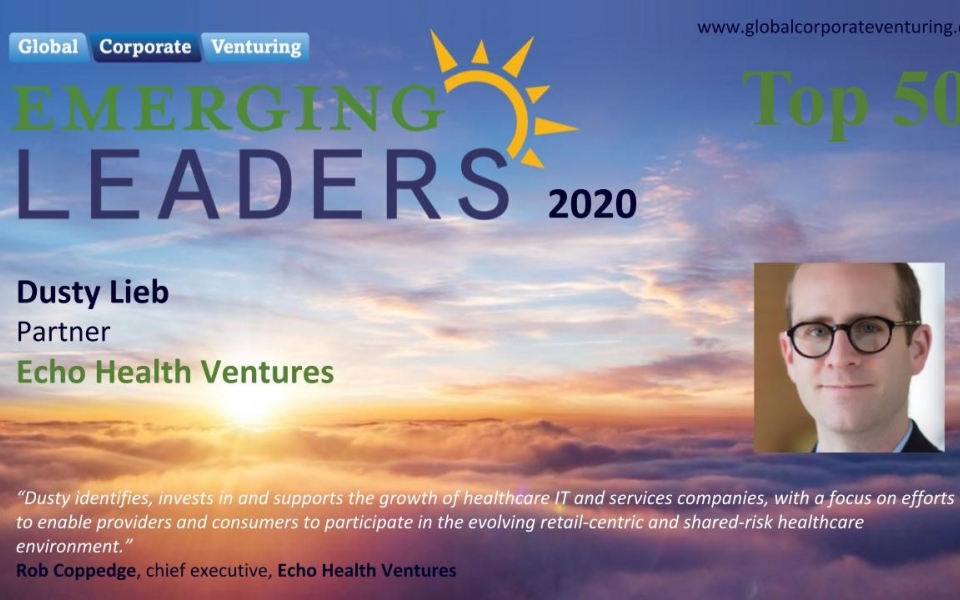 Echo Health Ventures Partner Dusty Lieb has been recognized as Global Corporate Venturing's Emerging Leaders as part of their 2020 awards. In this post, Dusty shares his background, his thoughts on where corporate venture capital is heading, and how he spends his free time.
What's your background?
I joined Cambia Health Solutions seven-and-a-half years ago, at a time when its strategic investment arm (Direct Health Solutions) was still in its early days. Prior to this I worked in health care focused investment banking and private equity for my entire career, with the exception of a short and ill-fated stint as the co-founder of a social media advertising company (we knew nothing about either social media or advertising).
What attracted you to CVC?
What most attracted me to Cambia / Echo was the mission-driven nature of the work and focus on transformation of the strategic health care investing model. Spending time in the world of traditional, transactional health care, it's easy to become cynical about the industry and its impact. But our purpose – to make investments that support our parent companies' visions and commitments to transformative, consumer-centric health care – makes tangible the "why" beyond just creation of financial value.
Investing with a corporate mission and mandate also enables us to deliver outsized value to our portfolio companies. In health care especially, innovation is often stifled by the complexity and intransigence of the existing system. By investing in companies centered on people and their families and improving their experiences with health care, as opposed to those propping up the current system, we can enable entrepreneurs to more effectively deliver transformation by navigating the incumbent infrastructure.
What are some of the biggest challenges the industry faces?
Making good investments in the current pricing environment has been Echo's biggest challenge over the last three years. Finding high quality assets that are priced appropriately, especially in the growth equity market, has taken patience and discipline.
Additionally, our industry at-large remains bureaucratic, opaque, and intransigent. Entrepreneurs are coming to market with transformative, person-centric solutions, but scaling in health care remains difficult because large incumbents have had little reason to change (until now).
What excites you about where the industry is headed?
Working on behalf of two forward-thinking companies, as a component of their respective strategies to change health care, is the opportunity of a lifetime. As large incumbents increasingly realize that they must change to survive and thrive, I believe the industry will undergo a tectonic shift. This may be painful for some, but it will create a huge amount of opportunity for those willing to embrace the change and put people first.
What do you do in your spare time?
I used to have a myriad of a hobbies, some of which (primarily fly fishing, running, and golf) I still have time for on occasion. But most of my spare time is now spent helping my wife raise our five-year old and one-year old daughters.